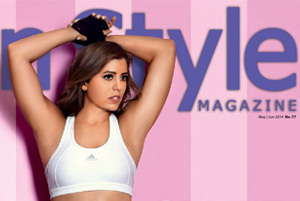 After an extremely busy start to the month of May, I am really happy to be back in Beirut and ready to focus on my next few goals.
I finished competing in two fitness competitions in Europe and believe I have grown as a person and learnt a lot.
I experienced what it is like to work hard and never give up. I pushed to my limits mentally and physically. I did not give up no matter how tired or weak I felt. I followed my diet regardless of how hungry I was or whoever ate dessert right in front of me.
I also experienced what it is like to win first place. Your months of hard work, dedication, weight training and strict dieting become worth it for that moment on stage when you receive your first place trophy. It makes you more determined to work harder and do even better next time.
I am also on the cover of the May/June issue of Fit n Style magazine. Check out the issue to read my four page interview. The magazine will be on stands throughout May and June.
I'm ready to focus on my next few goals now. Along with getting married in August and hosting a large number of guests from abroad, my plans include opening a fitness center. I have been getting daily emails from people who want to work with me and achieve the same results I have. It is my goal to provide people who need support and advice with a place to help change their lives for the better and build their dream body.
I believe in hard work and dedication in order to see results. I will never tell you that you will be able to build your dream body without exercising or following a clean diet. I will also never tell you that you need certain supplements, machines or accessories to reach your goal. Magic bullets do not exist and I learnt this the hard way by falling for these gimmicks myself.
I want to prove that anyone, regardless of your age, weight or current fitness level can get to where they want to be. All that is required is dedication and hard work.
In the meantime, I will be adding some write-ups of my competitions in the bikini competitions page very soon. Subscribe to the newsletter if you wish to stay tuned.