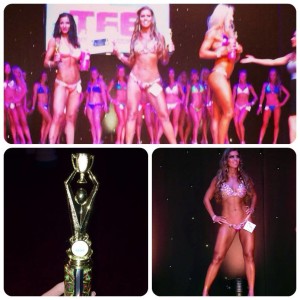 I'm so excited that on Sunday I placed FIRST in the Pure Elite UK Championships in the bikini category. The whole day was amazing with an experience I will never forget.
The athletes were all in tip top shape, especially the girls in the bikini category and I'm absolutely flattered that I won. Everyone was so friendly backstage, including the male and female participants and the event organizers. The show was a great success!
The day started off with an early morning drive from London to Kent where the competition was being hosted with my group of girlfriends from Beirut. My fiancé couldn't take time off work and will be coming to watch me this weekend in Denmark.
This just shows you should never stop believing in yourself and pushing to do your best. Always see fitness as a challenge against yourself and an opportunity to become better. Last year I competed and didn't win. Instead of feeling demotivated, I went and learnt from my mistakes. I discovered what I should do better. I worked harder, followed a stricter diet, focused on my weaknesses and improved my posing on stage. The hard work paid off and in my second competition I took first place.
This weekend I will be competing with the WBFF in Denmark. I've been training for the last three months for this day and hope to do my best. Even if I don't win at this competition, I will use my experience as a learning curve to do better. I'll work harder and keep on improving for the second time around.
Never give up on your dreams. If you don't get the results you want, keep going. Eventually you will get there and will realize that you wouldn't have been able to reach your goals if you didn't make any previous mistakes. There is no such thing as failure: only feedback, results and hard work.