On May 4th 2014 I participated in the UK Championships by Pure Elite. It was my second bikini fitness competition and I won first place.
Click here to see the gallery
My prep
After competing last year, I became addicted to seeing my body transform and showing off my hard work on stage. Since it was my second time competing, I felt more relaxed as I knew exactly what to expect on the day.
A professional dancer called Suzana Eldovich helped me prepare my posing routine on stage. Since these competitions do not exist in the Middle East, I do not have access to workshops, training camps, seminars or professional trainers and have to do most of the hard work by myself.
I trained with Bashar Diab in G Spa who motivated me and helped me for three months. If anyone is looking for a top notch trainer, he's your guy!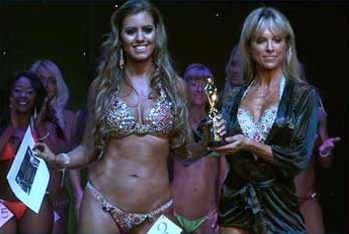 Diet
My diet was a bit stricter this year in that I simply ate less carbs. I did not cut them out completely; however, I went pretty low in my last month (April) before the competition. This was extremely difficult and I had moments where I really felt the effects of low carb diets. This was not just with my appetite, but mostly with my mood. There were times where I would feel down for no reason whatsoever. This was all linked to my diet!
My calories never dropped below 1500 with food consisting of protein, fats and wholegrain carbohydrates. I had cheat meals up until two months before the competition and then eliminated them completely. No alcohol since New Year! (And I still haven't drunk any alcohol).
Training
I lifted weights approximately four to five times a week with cardio up to six days a week. Although last year I had juggled going to the gym up to two or three times a day, this year I managed to fit everything in one session. I also did much less cardio than last year and focused on being stricter with my diet.
Endorsement
I was lucky to meet with the minster of Youth and Sports, Abed Hennawi and receive an official letter from him to represent Lebanon while competing abroad. This was a great achievement and helped me gain a lot of media attention before traveling. Along with TV and newspaper interviews, I had a daily countdown on Radio One and bagged my first magazine cover.
Support
My family, friends and fiancé all supported me during my preparation and were constantly uplifting. My girlfriends traveled with me to the UK to watch me live and my fiancé flew in to watch me compete in Denmark the week after. Many people might have found it odd when I wouldn't indulge in unhealthy meals and couldn't drink alcohol, but it was totally worth it when I received my first place trophy.
The show
The show itself was fantastic. Along with friendly people and athletes in amazing shape, there were stands selling fitness clothing, supplements, protein bars and more. There was even a fire show and a professional pole dancer in-between categories. I had my girlfriends there with me making me laugh, calming down my nerves and cheering for me when I stepped on stage. As usual, I did not feel any hostility from the other participants and felt like it was one big happy family of fit people who have all been working hard for the last few months to compete.
I competed in the bikini category since I do not want to have a really hard, lean and muscular physique. When they called out my name as the winner by the end of the show I literally couldn't believe it. I was overjoyed, ecstatic and felt extremely proud. There were lots of stunning girls competing (up to about 30) and it was an honor to have won. I was lucky to win a free designer bikini from the beautiful collection of La Diva Design by Veronique Rees.
My accomplishments
1- My greatest accomplishment was learning how it feels to win first place. Those few minutes of receiving my trophy and having my photos taken was worth every second spent during the three months of heavy weight lifting, cardio and strict dieting. No amount of alcohol or dessert can even come close to competing internationally and winning first place.
2- I received a lot of media attention which drove an incredible amount of traffic to my website. This has encouraged an increasing number of people to feel motivated and achieve their fitness goals. There is nothing more rewarding than people telling me I have changed their lives or inspired them to become healthier.
3- I learnt how to overcome my fears and keep on going. I competed last year and didn't win. Was I disappointed? Yes. I tried again this year and won. I experienced that you should never give up and should always keep moving forward no matter what.
4- Participating in competitions has taught me that I am capable of much than I think I am. If I can go through the preparation and then step on stage in a bikini to be judged, then there really isn't anything else I can't do.
5- My competitions have brought me closer to those I really care about. It shows who really supports me and will celebrate my success with me. It shows me I am lucky to have a network of support and wonderful people in my life.
Competing again
My goal this year will be to focus on improving and bouncing back even stronger next year. Will I compete again? Oh yes!