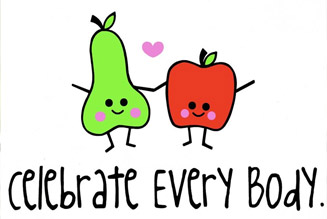 Someone asked me the other day what the main purpose of this website is. I answered that it is to support people and help them achieve their fitness goals.
But now that I think about it, it's actually so much more than that. It's about instilling confidence from day one of your journey until you create the best version of yourself. The secret towards doing that is to be satisfied with who you are from this very moment.
Most people who have contacted me through my website have revealed that they are extremely self-conscious or ashamed of their bodies. I'm here to tell you NOT to feel that way.
I have created two photo albums of male and female celebrities to show you that there is NO SUCH thing as one idealistic, perfect body. All these men and women look phenomenal in their own way and none of them look alike. As they come in all shapes and sizes, there will definitely be one celebrity that has a physique similar to yours! They are rich, famous, attractive and successful and have a body just like YOURS!
Never be ashamed of your body or the way you look. If you want to start caring about what people think from NOW, then you'll soon find that this will be a never-ending process. Everyone gets dumped, rejected, criticized, cheated on, etc and it has NOTHING to do with your body. You might go from being obese to being a high fashion model or a ripped fitness model and STILL face all these issues.
The way I see it, you will only be truly happy if you let go of what others think. Negative people will always have something bad to say, no matter what you do. One of my favorite quotes is "a lion never loses sleep over the opinion of sheep."
If you are following a fat loss program, stop seeing yourself as someone who IS fat but rather as someone who HAS fat to lose. Never compare yourself to others. If you want to look around, you will always find someone to make you feel insecure. Compare yourself to YOU and how much you are improving.
Commit to a fitness goal because you LOVE your body and want to create the best version of yourself. You are never too old, too fat or too unfit to get started. No matter how
heavy you lift at the gym, your mind is definitely the strongest muscle in your body. All it takes is determination and you can achieve the unthinkable.
Click here to view the photo gallery to create a positive body image for females.
Click here to view the photo gallery to create a positive body image for males.
Click here to read a newly added article about the lifestyle habits of athletes.
Want more?
Like the Facebook page: www.facebook.com/startlivingright
Follow me on Instagram: www.instagram.com/mayanassar_fitness
Join the newsletter (on the top right hand side) to receive updates every week.