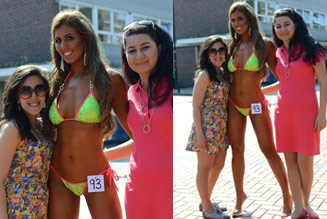 Greetings from New York!
It's been almost a month since I launched this website! I've been really pleased with the feedback so far and believe this is going to become a very successful project. I have many more exciting changes that I am going to be making very soon!
I've lost count of the number of amazing and friendly people I've been in touch with over the last month discussing fitness, health and nutrition. This is exactly what fitness is about. Being fit and healthy can change your life and connect you to some truly amazing people.
It's extremely rewarding to receive emails from people saying I have inspired them or that they have started seeing results by following my advice. This includes people who want to step on stage and start competing!
I still remember some of these moments backstage at my first fitness competition last month. The girls in the dressing room shared wine with me to calm our nerves before stepping on stage. They lent each other their makeup to make final touchups and helped fix each other's' hair. One girl I didn't even know held my hand as we walked up the stairs to go on stage because she was so nervous. You automatically feel connected to people you don't know simply because you share the same passion.
Unfortunately, there has also been a small degree of negativity with the website's Facebook page. Some people have had the audacity to leave inappropriate comments on the photos being posted. Such people are automatically filtered out and have been banned permanently from the group. No amount of negativity will ever affect the supportive vibe and optimism which this website represents. While these people have nothing else to do except hate over the internet, everyone else will be busy achieving their fitness goals and
getting into the best shape of their life.
I've also partnered up with a friend of mine and a fellow competitor at the Miami Pro Championships and held the very first online competition for this website. Details were sent out in the newsletter. If you'd still like to take part, send an email to info@startlivingright.net before it's too late!
I'm currently going to be in the states for the next ten days, so I apologize if it takes longer than a week to update the website. In the meantime, keep sending me your questions or comments and I will respond to you as soon as possible.
Check out the new article for this week:
How to Suppress Your Appetite Naturally
Social Media:
Instagram: @mayanassar_fitness
Facbook: www.facebook.com/startlivingright