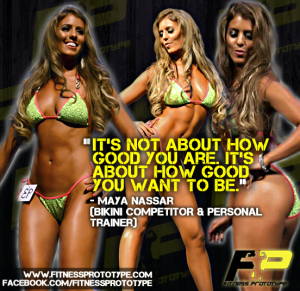 Happy New Year!
As we are now officially in 2014, I am one step closer towards competing in May 2014. I will be entering the bikini category in fitness modeling championships in the UK and in Denmark. Each competition will be one week apart.
One of the federations I will be competing with is the World Beauty Fitness and Fashion Federation (WBFF). This was my goal all along and is something I am extremely excited to participate in. Everyone talks about how extravagant their shows are and some of the world's best fitness models have emerged from the WBFF.
Although getting into shape is a physical challenge, it requires even MORE mental strength. When you train for a competition, you push beyond your mental limits. It is so tough and challenging, that your mind is what keeps you going when your body wants to quit.
I am currently preparing myself mentally to get into top physical shape. I will have to deal with early mornings, cravings, hardcore weightlifting, exhaustion and wanting to give up. However, if I can get through this, there is nothing else I will not be able to deal with.
I consider training for a competition a long-term investment in myself. Along with getting into the best shape of my life and boosting my confidence, I will be teaching myself discipline, determination, willpower and mental strength.
It will definitely be a challenging journey, but I can't wait to get started. I will document my training, diet and mental challenges right here. It does not matter whether I come in first or last, what matters is that I get through this – and as the WBFF slogan states – I will compete with the best of the best.