Recipe by guest author N.P.Burggraaff
A classic! Combine it with a nice yoghurt garlic dip and lemon cumin juice.
Ingredients (serves 4 people)
The juice of 5 lemons
1 tsp of cumin powder
4 celery stalks
1 large cucumber or several small cucumbers
1 large carrot
16 radishes
16 cherry tomatoes
1 cup of yogurt
1/2 clove of garlic
some mint leaves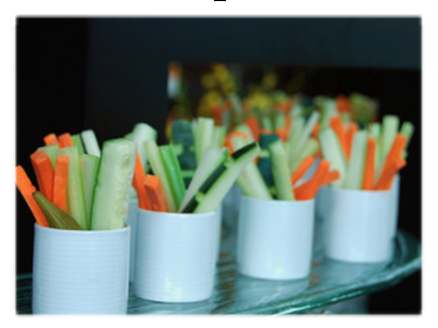 Directions
Squeeze the juice out of the 5 lemons. Divide the juice over 2 wide medium sized glasses. In one of the glasses, mix in the cumin and stick in the sliced cucumber and carrots. In the other glass, place the carrot and cucumber sticks (this is for the people who don't like cumin)
Chop up the mint leaves and the garlic, then mix them with the yogurt and optionally add some salt. This is the dip for the sliced celery, cherry tomatoes and radishes.
Your snack really can't get healthier than this!
Calories per serving: 70 calories