Recipe by guest author N.P.Burggraaff
This is a delicious Asian style appetizer.
Ingredients:
200 g of chicken filet
3 spring onions
2 tbsp of sesame oil
100 g sugar snaps
1 tbsp of a chopped up vegetable broth tablet (or as to taste)
1 tbsp of roasted sesame seeds
4 big iceberg lettuce leaves to fill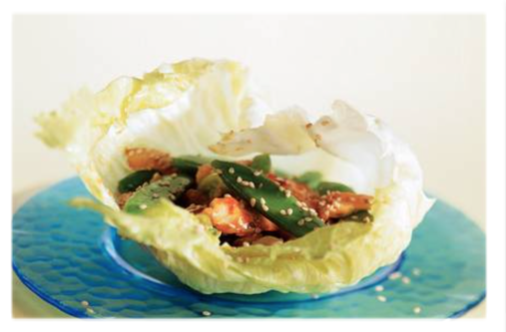 Directions:
Cut the chicken filet into strips and season them with salt and pepper. Cut the spring onions into centimeter cuts. Heat the sesame oil in a frying pan or wok and stir fry the chicken for 2 minutes on high heat. Then add the sugar-snaps and stir fry for another 3 minutes. Lastly throw in the spring onions and the chopped up vegetable broth tablet.
Put the lettuce leaves on a plate or in a glass, to give the leaves shape, and fill with the chicken mixture. Lastly sprinkle with sesame seeds. Done!
Calories per serving 140